Posted: February 19, 2018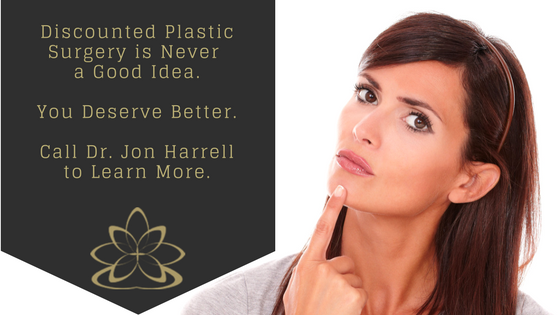 Discount surgery. Just saying the name out loud is uncomfortable. When you add the word "plastic," in front of surgery, these words become even more unsettling. Discounted, cheap plastic surgery is exactly that: discounted, cheap plastic surgery. It is also much more; as in much more dangerous, much more risky, and much more likely to produce inconsistent and unsatisfactory results.
Miami and Ft. Lauderdale are hotbeds of plastic surgery. In an effort to save a few dollars, some people are swayed by offers of discounted surgery prices – but may not fully be considering what that entails. More often than not, what "discounted plastic surgery" entails is working with a surgeon who is not board-certified and who does not have privileges to perform procedures at an accredited surgical or ambulatory facility.
That translates as increased risk for:
Infection
Excessive bleeding
Asymmetrical results
Improper incision healing
Remember, there is a difference between a board-certified plastic surgeon and a cosmetic surgeon and that difference is this: unless a surgeon is board-certified by the American Board of Plastic Surgery (ABPS), you have no way of knowing if they have any experience at all performing aesthetic procedures. That's right, literally anyone with a medical degree can call himself a cosmetic surgeon. Only someone who has met the incredibly demanding requirements of the ABPS can call himself a plastic surgeon. You wouldn't go to a cardiologist for the removal of a tumor. Why would you go to a general M.D. or family practitioner for the placement of breast implants?
Think about the plastic surgery procedure you are interested in and use that to replace "discount plastic surgery." Nothing at all sounds appealing about cheap breast augmentation, discounted breast implants, price-reduced liposuction, or an economy-priced tummy tuck. When we're honest with our choice of words, there is just no way to make cheap plastic surgery sound like a good idea.
You know what gets discounted? Food near its expiration date. Do you really want to apply the same type of discount to a medical device that will be implanted in your body? Or to the surgical removal of fat deposits? Of course you don't. You want to work with someone with the experience, training, background, and certifications that indicate their dedication to plastic surgery. You want someone with exceptional reviews, indicating his commitment to patient safety and satisfaction. And you want someone whose entire practice is devoted to helping men and women achieve their aesthetic goals. In other words, if you live in Miami or Ft. Lauderdale, you want board-certified plastic surgeon Dr. Jon Harrell.
Why Choose Dr. Harrell?
Former Chief of Plastic Surgery at the Beverly Hills Surgical Institute, Dr. Jon Harrell is a Diplomat in the American Board of Plastic Surgery. In practice since 1978, Dr. Harrell has maintained a private plastic surgery practice for over 25 years, the last 14 in Weston, Florida where he serves the Miami and Ft. Lauderdale areas. Dr. Harrell is also a Diplomate in National Board of Osteopathic Medical Examiners and American Board of Otolaryngology - Head and Neck Surgery. He is a member of the American Society of Plastic Surgeons, the American College of Surgeons, and the American Osteopathic Association.
Highly qualified, respected, and trusted, Dr. Harrell and the staff at the Weston Center for Aesthetic Medicine and Surgery are 100% devoted to the health, happiness, and satisfaction of each of our patients. When you come to us, we will treat you with individual attention and personalized care, and provide you with cutting-edge techniques and treatments to help ensure your absolute satisfaction from beginning to end.
Discounted plastic surgery is not a good idea. Working with Dr. Harrell is. To learn more or to schedule a private and confidential consultation at our Weston office, please call (954) 526-0066 today.