In the year 2000, there were 5,500,446 minimally invasive, nonsurgical cosmetic procedures performed by board-certified plastic surgeons in the United States. By 2017, that number had increased 186% to an impressive  15,714,118, as reported by the American Society of Plastic Surgeons.
The most popular of these nonsurgical cosmetic treatments is BOTOX® Cosmetic, with soft tissue fillers such as Juvéderm® and Bellafill® coming in as a close second. Both of these nonsurgical options address visible signs of aging in the face, though they work very differently. BOTOX® Cosmetic softens deep wrinkles and fine lines by blocking nerve signals that tense muscles. Dermal fillers restore skin-plumping proteins or acids, such as hyaluronic acid and collagen. Some fillers also stimulate collagen production for longer lasting results. Either of these options may prove ideal for men and women who are experiencing signs of aging but do not wish to undergo a surgical procedure.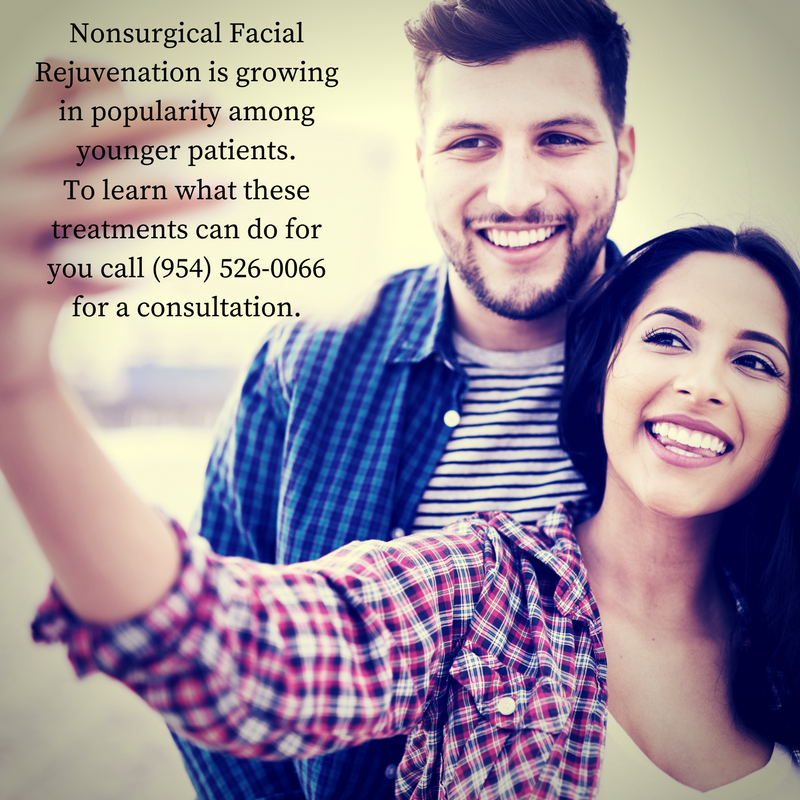 Nonsurgical facial rejuvenation may be being driven by the selfie craze. There has been a recent increase in the number of men and women getting preemptive BOTOX® Cosmetic injections while still in their 20s, a factor that has contributed to the increasing popularity of the procedure. Because BOTOX® Cosmetic has very few risks, comes with little to no downtime, and can safely be repeated every three to four months, it is often the first choice of younger patients. Fillers, which work to soften and plump the skin, may be a better fix for those past their mid-30s, though each person is unique and candidacy for any procedure will need to be based on individual factors.
When you come to the Weston office of Dr. Jon Harrell, you will be provided with information about those procedures you are most interested in as well as those that Dr. Harrell believes would help you reach your goals. We will work directly with you at all stages to help ensure you are provided the treatment that is most likely to produce the results you desire.
Nonsurgical facial rejuvenation provides an alternative to procedures like facelift and brow lift, but cannot produce the same dramatic and long-lasting results. Results from nonsurgical cosmetic treatment are typically subtler. Depending on the treatment used, results may last anywhere from three to 18 months. Most of these procedures can safely be performed every few months, or as needed, for maintenance. A schedule that makes sense for your needs will be established when you come to our office for your initial consultation.
Dr. Harrell is a board-certified plastic surgeon with over 24 years of experience. If you are looking for a plastic surgeon in Weston, Miami, Ft Lauderdale, or surrounding areas, please call Dr. Harrell at 954-526-0066 to schedule a consultation today.
The Weston Center for Aesthetic Medicine and Surgery maintains extended hours on Mondays and Fridays and we are open on Saturdays as well to better meet the scheduling needs of all of our patients. Nonsurgical rejuvenation can often be completed in a single visit. Call us today to learn more.