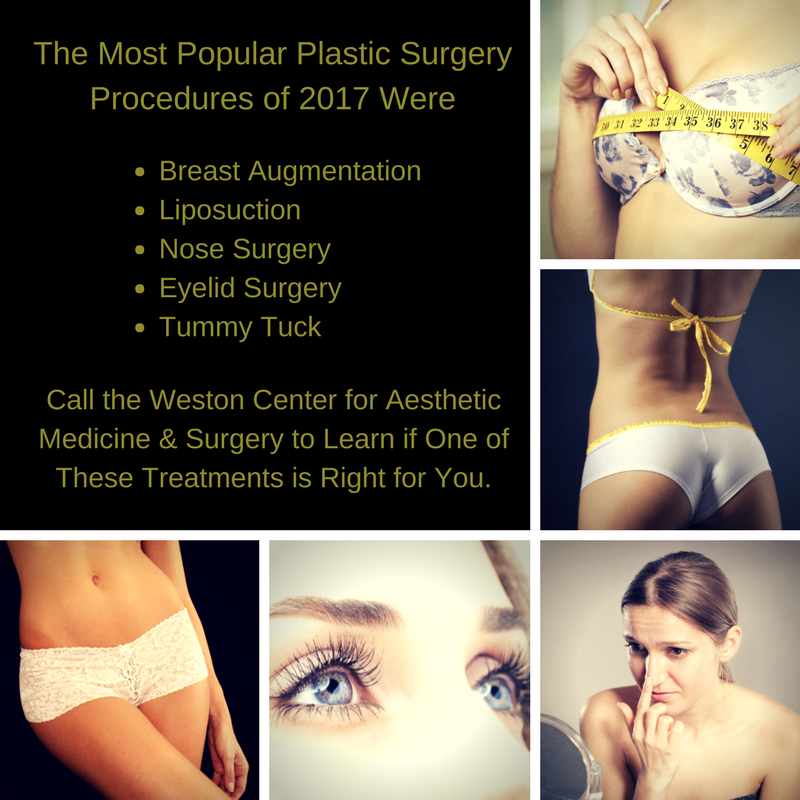 The top ten most commonly performed plastic surgery procedures in 2017 were:
Breast Augmentation, 300,378 procedures performed
Liposuction, 245,354 procedures performed
Rhinoplasty (nose surgery), 218, 924 procedures performed
Blepharoplasty (eyelid surgery), 209, 571 procedures performed
Abdominoplasty (tummy tuck surgery), 129,753 procedures performed
Facelift, 125,697 procedures performed
Breast Lift, 105,219 procedures performed
Dermabrasion, 84,276 procedures performed
Neck Lift, 54,038 procedures performed
Breast Reduction, 43,635 procedures performed
In total, there were 1,790,832 plastic surgery procedures performed by board-certified surgeons in 2017, up slightly from 2016. Breast augmentation remains the most popular plastic surgery procedure, but this year saw tummy tuck overtake facelift in the top five.
Weston plastic surgeon Dr. Jon Harrell is pleased to offer the most popular plastic surgery procedures to men and women living in Miami, Ft. Lauderdale, and all surrounding areas. If you are interested in learning which procedures would be best for helping you reach your goals, give us a call at 954-526-0066 to schedule a consultation today.
Am I a Good Plastic Surgery Candidate?
The best candidates for plastic surgery are men and women who are in generally good physical and emotional health but are unhappy with one or more aspects of their body. To be a candidate for plastic surgery, you will need to be a nonsmoker or be willing to quit at least six weeks in advance of your procedure. Quit means quit. Any nicotine you put into your system during recovery – via traditional cigarettes, e-cigarettes, patches, gum, snuff, or chew – will delay the healing process, increase risks for infection, and increase risks for poor incision healing, which can translate to thick, highly-visible scars.
In addition to being a nonsmoker who is in generally good health, to be a good plastic surgery candidate you should be:
Able to take time off from work and household duties while you recover
Willing to carefully follow pre and postoperative directions
Willing to change your lifestyle to help maintain results in cases of body contouring
Having realistic expectations is also incredibly important. Plastic surgery can enhance and beautify parts of the body you are uncomfortable with and, depending on the procedure, this can translate to improved clothing options, greater range of motion, increased physical comfort, and a boost to self-esteem and confidence. Plastic surgery cannot safely make you look like an entirely different person or alter your figure in such a way as to radically transform your shape.
Board-certified plastic surgeons like Dr. Harrell follow the patient safety and care guidelines established by the American Board of Plastic Surgery, which include responsible use of procedures and techniques. During your initial consultation, Dr. Harrell will openly and honestly talk about the benefits and practical limitations of each procedure you are interested in.
If you live in or around Weston, Florida and are curious about your candidacy for plastic surgery, call the Weston Center for Aesthetic Medicine and Surgery at 954-526-0066 to schedule your initial consultation today.