Rhinoplasty, commonly called a nose job, is a surgical procedure designed to bring your nose into ideal proportions with surrounding facial features. If you are unhappy with your nose, Weston plastic surgeon Dr. Jon Harrell welcomes an opportunity to meet with you and discuss the option of rhinoplasty.
Board Certified in both plastic surgery and ENT (ear-nose-throat) surgery, Dr. Harrell has performed over a thousand rhinoplasty surgeries in his career. This procedure is among his favorite to perform. He is a master in this surgery and has treated all kinds and degrees of nasal deformity in patients of all ethnic backgrounds. Celebrities and entertainers have benefitted from Dr. Harrell's skill in nasal surgery as have people from all walks of life.
Dr. Harrell and his staff look forward to assisting you in your desire to look your best. Please contact our office online or call 954-526-0066 today to see if you are a good candidate for rhinoplasty surgery. We are pleased to serve patients in and around Weston, Florida, including Ft. Lauderdale, Miami, Plantation, Davie, and other nearby communities.

Primary Rhinoplasty
Primary rhinoplasty, also known as a first-time nose job, can address the following aesthetic issues:
Snub-nose or blunted tip – Rhinoplasty surgeons often refer to this as a nose tip with inadequate projection and definition and can adjust your nose tip.
Nostrils that are wide or excessively wide – With a skin excision, nostrils may either be made smaller, narrowed, or both.
Long nose – Our Miami rhinoplasty surgeon takes great care to precisely sculpt your shorter nose without over-shortening.
Bumpy nose – Nose bumps are simply a prominent bit of bone or cartilage located on its bridge. To correct this, there are specialized instruments available which will create a more pleasing contour and shape.
Nose tip that is wide or bulky – For many Miami patients, the correction of this may involve either trimming some of the external cartilage or thinning of a fatty layer underneath the nasal skin.
Many of our Miami patients find their self-esteem is enhanced and their lifestyle improved by the correction of any of these issues. Our caring staff can support you with any type of physical enhancement you are looking to receive.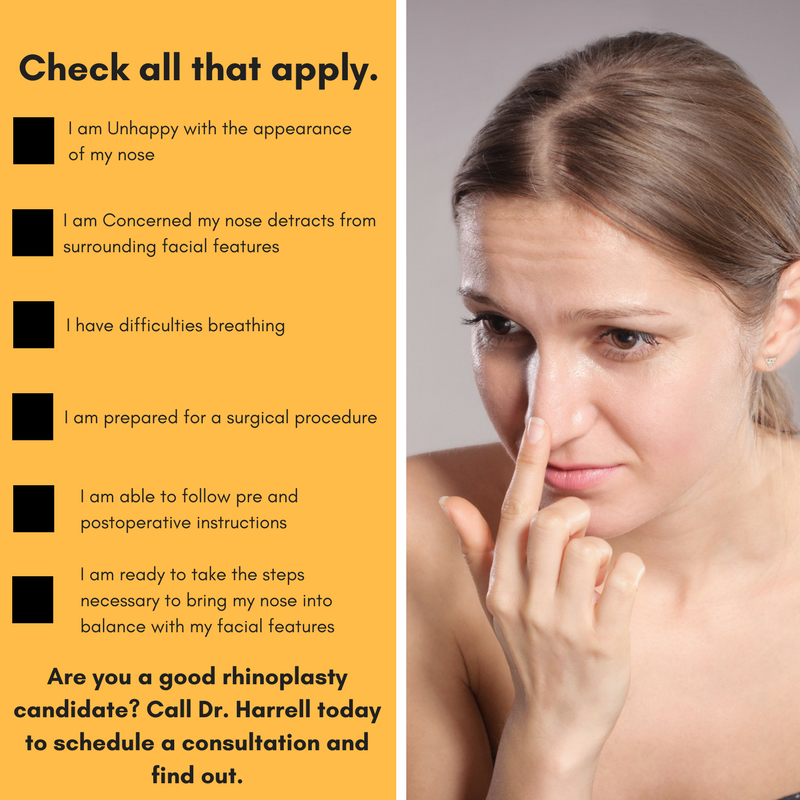 Secondary Rhinoplasty
While most people can expect a marked improvement in appearance following their first nose job, there are times when patients are not satisfied with rhinoplasty results achieved in a prior procedure. In this case, our Miami rhinoplasty surgeon can provide a secondary rhinoplasty procedure, even if he didn't perform your initial procedure.
Secondary rhinoplasty refers to any nose surgery performed to correct unsatisfactory nose job results. It is also referred to as revision rhinoplasty. The term is very general and covers a wide range of possible operations, including minor touch-ups all the way to major reconstructive surgeries. Some of these procedures are relatively simple in scope, while others may be time consuming and exceptionally difficult undertakings.
There are several important factors which must be taken into account when undergoing a secondary rhinoplasty procedure:
Airway Considerations – A functional nasal analysis is a critical part of the evaluation before any nose job, but particularly so before a secondary rhinoplasty procedure. There are many reasons that the airway may be compromised, but most of these problems can be addressed if diagnosed properly.
Aesthetic Considerations – These issues fall into several categories. A small number of patients actually have a reasonable result but may have had unrealistic expectations about what their rhinoplasty procedure was going to be able to accomplish. In other circumstances, the original surgeon may not have accurately diagnosed the situation or may have not have performed the surgery as well as hoped for. Sometimes, it is a combination of everything noted above.
Usually, a significant improvement can be made during a secondary rhinoplasty. Some noses are easier to improve than others, but usually an experienced surgeon can achieve your desired results with this procedure.
Dr. Harrell has extensive experience performing secondary rhinoplasty procedures and he has been helping patients correct issues stemming from poorly performed nose surgeries for more than 25 years. If you are unhappy with your current rhinoplasty results, give us a call to schedule a consultation and learn how Dr. Harrell can help.
Maintaining Natural Characteristics
Your facial features are an important part of what makes you unique and your ethnicity plays a major role in how these features look. When undergoing rhinoplasty to improve the appearance of your nose, it is important to take your natural features into account in order to achieve pleasing results.
Dr. Harrell takes great care to retain the unique characteristics of each of our patients. To accomplish this, considerations such as skin thickness, nasal structure, and nostril width must be taken into account during the planning phase and adjusted for during the procedure itself. Dr. Harrell often employs techniques such as building up the nasal bridge, narrowing the base of the nostrils, or lengthening and refining the tip of the nose to produce ideal structure. These techniques are very effective at enhancing the appearance of the nose without producing a whitewashed or overly-European appearance.
Your physical characteristics will play a role in the technique and approach Dr. Harrell chooses for your procedure and, as a result, no two procedures performed by Dr. Harrell are exactly alike. Every care will be taken to customize your rhinoplasty procedure in order to address your aesthetic goals in a manner that respects and preserves your ethnic identity.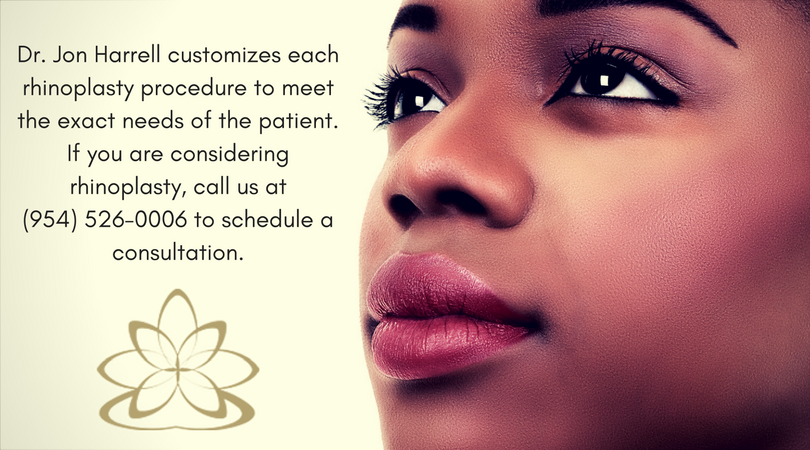 Your Rhinoplasty Consultation
Your nose job consultation will begin with Dr. Harrell learning about your concerns and goals. A thorough exam will then be done, following which Dr. Harrell will outline a proposed plan of correction.
It is not uncommon for patients to bring in photographs of models or celebrities with the type of nose they would like to have. Although it is not possible to guarantee identical results, pictures do give Dr. Harrell an idea of your aesthetic preferences.
The exam will also include assessment of your internal airway. Dr. Harrell will demonstrate the proposed plan with drawings and diagrams to help you understand the anatomy and how it will be re-shaped.
Many of our rhinoplasty and secondary rhinoplasty patients live all over the world and have been willing to travel a great deal to work with Dr. Harrell due to his reputation for delivering exceptional results. Because of this, we offer virtual consultations to our out of town patients.
The Virtual Consultation Process
After making initial contact with our office, we will provide you with all the information needed to complete a telephone consultation. Here are the basic steps needed:
Provide Medical History and Demographic Form: These can be downloaded from our website, or we can fax them to you. Dr. Harrell will review them and address any issues should they arise.
Provide a Set of Photographs: Front, right side, right quarter view, left side, and left quarter view photographs of the whole face are necessary for Dr. Harrell to adequately assess the external nasal anatomy and to follow along as you discuss your concerns.
After our Fort Lauderdale plastic surgeon has reviewed the information you have provided, a scheduled consultation will be arranged. During this time, you will be able to express your concerns regarding the appearance and function of your nose and to ask any nose surgery questions you may have.
Our office has two patient consultants who will work with you to make the arrangements for surgery. Some patients have very few needs while others may need help with lodging, arranging for help, and even car rentals. We are ready to assist in whatever way we can to make the whole process a smooth and pleasant one.
Typically, labs and prescriptions can be taken care of where you live, although sometimes those aspects of the pre-op are taken care of here. If needed, medical clearances are performed close to home.
All informed consents and permits will be sent to you for review and can be signed after arriving locally. A formal consultation with Dr. Harrell will take place prior to the procedure, and a tour of the surgical facility can be arranged if desired.
Most people are able to travel comfortably after three days. However, it is preferable for you to stay as long as possible after surgery – up to a week would be optimal. This allows Dr. Harrell time to remove any tape and splints and to reassure you that healing is progressing well. Some patients leave sooner and then return. Others may co-ordinate care back at home with another physician, allowing them to leave earlier. We try to accommodate each patient's wishes, providing it is medically sound and safe to do so. We will work directly with you to help you choose the option most suitable for your needs.
Financing Rhinoplasty
In some cases, surgery to correct a deviated septum or surgical procedures to address large turbinates may be covered by insurance. Cosmetic rhinoplasty will not be. This can serve as a deterrent for some people when considering nose surgery.
If financing is an attractive option to you, we would be happy to discuss payment options during your initial consultation. We accept major credit cards and cash, and work directly with CareCredit® to offer financing to patients who would prefer to pay over the course of several months.
We can provide you with applications and information for CareCredit, or you can apply directly on their website for faster results.
Why Choose Dr. Jon Harrell?
Fort Lauderdale plastic surgeon Dr. Jon Harrell has been in active practice for over 25 years. During that time, he has performed rhinoplasty on thousands of patients from all ethnic backgrounds, including Asian, African-American, and Caucasian. Dr. Harrell has completed full residency training in both otolaryngology (ear, nose and throat surgery) as well as plastic surgery.
Dr. Harrell feels comfortable working on the internal problems that many rhinoplasty patients have such as breathing difficulties due to nasal septum problems, turbinate problems, and narrowing of the airway due to scarring or trauma. He has a large group of patient photos online that can attest to the quality of his work. Additional photos can be viewed during your initial consultation.
In addition to his experience, Dr. Harrell is a "people person" who enjoys listening to his patients and taking the time to establish a strong relationship with them. He tries to understand both your emotional and physical concerns.
While in our care, you will not be rushed, talked down to, or be made to feel you are somehow imposing upon the staff or doctor. We will be honest about what we diagnose, direct in what we can do to correct the problem, and upfront about what can and cannot be achieved through rhinoplasty.
If you live in Ft. Lauderdale, Miami, or surrounding areas of Florida and are interested in learning more about rhinoplasty, please contact The Weston Center for Aesthetic Medicine and Surgery online or by phone at 954-526-0066 to schedule a consultation today.