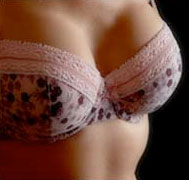 restore
In our seemingly 'breast obsessed' Western culture we may be thinking that most women are only bothered by small breasts and that breast augmentation is the only procedure typically performed. However this is far from the truth.
In actuality breast reduction is a frequently performed operation that brings relief and satisfaction to large numbers of women each year. If you're unhappy with the size of your breasts and you're considering decreasing the volume, please call (954) 526-0066 to schedule a consultation at The Weston Center for Aesthetic Medicine and Surgery in the Ft. Lauderdale area today.
The Problem
Most patients with large breasts developed breasts early and carry the emotional traumas associated with the reaction of the males in their lives to their large breasts. Many were teased or stared at and actually developed a negative self image due to their breast size.
In addition, at a certain point the breasts may be significantly out of proportion in relationship to the rest of the body.
Patients frequently report having difficulty finding dresses or blouses that fit. Shoulder grooving and pain in the neck or back is also a frequent concern of women with large breasts. Lastly many women also express frustration with trying to exercise with large breasts and others relate chronic breast discomfort and even yeast infections in the fold under their breast. As you can see, large breasts may not always be looked at as a blessing by many women.
Males can also develop an unusually large amount of breast tissue, and may want to remove it with gynecomastia surgery.
The Solution - Breast Reduction Surgery
Usually the first step is to determine if weight loss is appropriate. Weight loss for most patients improves their health and well being and has many positive health benefits. Assuming that weight is not a significant or major issue, Breast reduction is the surgery utilized to improve the symptoms associated with Mammary Hypertrophy. There are many variants of Breast reduction, but all include a direct removal of breast tissue and a reduction of skin to match the smaller breast volume. Additionally, shape is usually improved as well.
The Procedure
Breast reduction is usually performed as an outpatient procedure and takes from 2-3 hours to perform depending upon the size of the breasts and the technique of tissue removal chosen. There will be incisions made on the breast skin which will leave scars that for the most part fade with time and are of little concern to the patient. Nonetheless this is probably the big trade off with breast reduction. The more a woman has to gain from breast reduction the more tolerant they are of the incisions. Occasionally liposuction of the fat adjacent to breast will better define the shape of the breast and give a better cosmetic result.
Postoperative Course
Patients usually spend about an hour and a half in the recovery room, following which they are released to home care with a responsible adult caregiver. Discomfort is moderate and easily controlled with prescribed medication. Typically only absorbable sutures are used and the incision is reinforced with a tape closure. Patients may be active although no aerobic or strenuous activity is encouraged during the first two weeks. After that patients can increase the level of their activity as desired. Usually patients have uneventful postoperative healing but occasionally there may be localized delays in healing of the incisions. Satisfaction rates are generally high and most patients indicate a significant improvement in their quality of life. As the patient heals, the skin may stretch some and occasionally a patient may request a 'touch up' to further tighten the skin six months to a year after the procedure.
Why Choose Dr. Harrell for Breast Reduction Surgery
Dr. Harrell is a board certified plastic surgeon with over 24 years of experience in cosmetic surgery. He has performed a large number of breast reductions and enjoys helping the women who are troubled by this condition. With excellent technical skills and an artistic eye he will be able to work with you to obtain the best result possible.
We hope you will call our office near Ft. Lauderdale with any other questions at (954) 526-0066 and make an appointment through our online contact form below. We look forward to working with you to help you reach your goals.