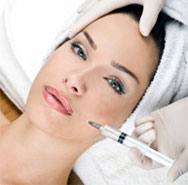 Enhances your beauty
The term injectable dermal fillers is really an understatement of what these compounds are and what they can do. This is a general term used to describe a wide variety of products that can fill in lines and depressions on the face, restore lost volume and even reshape noses and fill in as an alternative to a face lift.
They actually are a revolutionary addition to the anti-aging treatments available to our patients.  They may be composed of differing substances including collagen, calcium, hyaluronic acid, lactic acid powder, silicone and fat.
Other compounds not approved for use in the United States are available but may have unproven safety records. Not all products are suitable for all areas and for all purposes.
Some last longer than others, some work better in certain anatomic areas than others, some are pricier than others and some are relatively slower or more rapid in creating an improvement in appearance.
Most of the fillers are 'off the shelf' meaning they can simply be opened and injected immediately into the areas of concern. Some may be used with local anesthesia to improve comfort but many require no local anesthesia at all. Typically there is minimal swelling after these procedures with the most common adverse side effect being a small amount of bruising in the area of the injection. Patients typically 'love' their injectable fillers. They can restore the high cheekbones, fill in sunken cheeks, restore volume to aging lips and camouflage and soften the folds that form around the nose and lips.
Dermal fillers available at our Miami area office include:
Of course there are many other uses for fillers and these will be covered under each of the individual fillers listed on our site. Please review these fillers at your leisure. There are also a representative collection of photos of patients to review. We hope you find this section informative.
Dr. Harrell is a board certified Plastic Surgeon with over 24 years of experience in cosmetic surgery. He has been using injectable fillers from the time when only collagen fillers were available. He is an expert in the use of all fillers and enjoys helping patients use these products to enhance their appearance.
Dr. Harrell and his staff look forward to assisting you in your desire to look your best. Please contact The Weston Center for Aesthetic Medicine and Surgery through our online appointment form or call (954) 526-0066 today to learn more about injectable fillers and how they may benefit you.