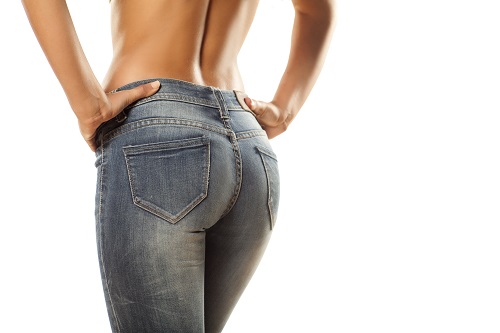 During a traditional butt lift, liposuction is used to remove fat from a donor site on the body – typically hips, thighs, or another area with fat to spare – and injected into the buttocks. Your body's own fat is less likely to be rejected than artificial implants, making it ideal for the butt lift procedure. What's more, using liposuction to remove fat from donor sites helps sculpt and tone those areas as well, giving the traditional Brazilian Butt Lift even more power to produce ideal contours. However, surgical procedures are not the best fit for everyone.
Sculptra® is a dermal filler that stimulates collagen production. A single treatment can last for 24 months, producing a full, soft, and appealing look throughout the treatment area. When used for a butt lift, Sculptra encourages the body's own production of collagen, utilizing this structural protein to continue providing a look and feel that is entirely natural – and all of this without the need for anesthesia, incisions, or any significant downtime.
Sculptra buttock injections are well-tolerated by most patients, though they may not be as easily accepted as fat transfers. While side effects from Sculptra are rare, some patients may experience small bumps or lumps when the treatment area is depressed. During your butt lift consultation at our Weston, Florida plastic surgery office, Dr. Jon Harrell will discuss the benefits and risks associated with both Sculptra buttock injections and the Brazilian Butt Lift to help you determine which will best produce the look you deserve.
To schedule your butt lift consultation with our board-certified plastic surgeon, call the Weston Center for Aesthetic Medicine and Surgery at 954-526-0066 today. We welcome patients from Miami, Davie, Fort Lauderdale, Plantation, and all surrounding areas of Florida.