Recovery from breast augmentation typically takes one to two weeks. While there will be some residual soreness and swelling even after this period, most women are able to resume a majority of their normal activities within 14 days. It is important to remember, however, that more strenuous and physically demanding activities will need to be avoided for up to six weeks.
Miami breast augmentation surgeon Dr. Jon Harrell will schedule your first follow-up appointment for the day after your procedure. While you will be provided with detailed instructions on pre and postoperative care, this first and all subsequent visits will give you an opportunity to ask Dr. Harrell, in person, any questions you may have and to receive personalized guidance that allows you to resume all activities in the timeframe that makes the most sense for your body.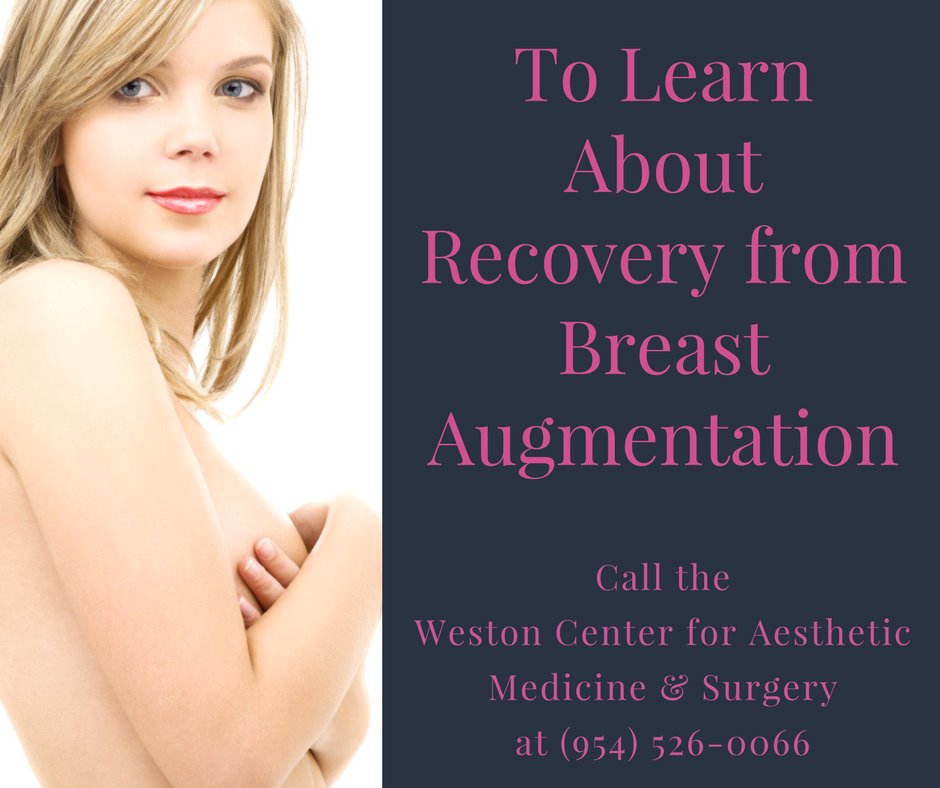 Speeding the Recovery Process
You can reduce your risks of postoperative complications and may even be able to reduce your breast augmentation recovery time by taking steps to fully prepare for your procedure. This may include:
Giving up tobacco at least six weeks in advance of your breast augmentation procedure
Ceasing some medications, supplements, and herbs in advance of your procedure
Keeping incisions clean and dry following breast implant placement
Avoiding more demanding activities until advised by Dr. Harrell to resume them
You can help reduce swelling and postoperative discomfort by taking short walks throughout the day in the first few weeks of your breast augmentation recovery. These walks will assist with circulation and can begin paving the way for more progressive forms of exercise as you recover. Make sure your breasts are properly supported when walking, though. Even that mild form of physical output can result in discomfort if support is not adequate.
It is recommended that you create a comfortable space in which to rest for one to two days after your procedure. You will not be helpless by any means, but having an adult around to help with tasks like getting things off of high shelves or mopping up an unexpected mess can be incredibly useful. If you cannot arrange for help during the day, make sure that everything you will need during the first 24 hours of your recovery is close at hand.
Most women enjoy a complication-free breast augmentation recovery and are able to see full results as soon as swelling and bruising completely subside – generally between week six and eight. When you choose Dr. Harrell for your breast augmentation, you are choosing a board-certified plastic surgeon and highly trained staff that will remain committed to your comfort and happiness throughout that entire process.
If you live in or around Miami and are considering breast augmentation, please call the Weston Center for Aesthetic Medicine & Surgery at 954-526-0066 to schedule a consultation today. Located in Weston, Florida, Dr. Harrell welcomes breast augmentation patients living in Ft. Lauderdale and all surrounding areas.