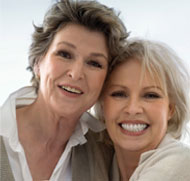 Refine and Rejuvenate
For many of us, one of the first places we notice aging is around the eyes.Because of the prominence and importance of the eyes in facial appearance, we're also more likely to notice the early changes of aging in this area more than we otherwise might. Some of the early changes can include apparent laxity of the skin, fine lines and wrinkles and puffiness of the lids. Furthermore as the skin slides down off of the bones around the eyes we may notice deep depressions around the lower eyelids.
There is no specific age at which these changes become obvious but usually in the 40s or 50s most people can notice varying degrees of aging changes in and around the eyes, although some patients have noticeable concerns even in their early 30s. If you'd like to recapture a more youthful appearance, Dr. Jon Harrell can determine if eyelid surgery (blepharoplasty) is right for you. Please call our Ft. Lauderdale office at (954) 526-0066 today. 
Dr. Harrell's Qualifications
Dr. Harrell has specialized in facial plastic surgery for over 24 years and is Board Certified in Both Plastic Surgery and Otolaryngology (ENT) Surgery. As such, he has performed a larger variety of cosmetic surgeries on the eyelids, including complex reconstructive surgery as well. He is well trained and versed in a variety of eyelid procedures to rejuvenate and refresh the appearance of the eyes. With his additional training in facial plastic surgery he is uniquely trained to help provide you with the best results, utilizing the most modern techniques.
Eye Surgery Consultation
A consultation will consist of Dr. Harrell listening first to your concerns, and then perform an examination to determine which of the various techniques will suit your needs the best. Afterwards Dr. Harrell  will give you a detailed description of what he has found and what procedures you will likely benefit from. A frank discussion of pre and post op care, potential risks and complications and of course realistic expectations are all part of this comprehensive consultation.
The Blepharoplasty Procedure
Eyelid surgery is performed mostly as an outpatient procedure. Anesthesia may consist of local anesthesia, IV sedation or occasionally general anesthesia, particularly if multiple procedures are to be done. Occasionally only the upper or lower lids alone are improved but frequently both are done at the same time. The procedure will take from 1-2 hours depending upon whether both are being done or not. During the procedure excess skin and fat are removed and the eyelids may be tightened if necessary.
Usually the upper lid incision is hidden nicely in the natural fold of the eyelid. The lower incision can be made either inside the lid for fat removal alone (Transconjunctival Blepharoplasty) or more frequently just below the lower lid eyelash line (the sub-ciliary approach). In either case the incisions are almost always imperceptible. Occasionally small implants may be placed below the orbital rim but this does not add any further incisions. After the procedure cold compresses will be placed on your eyes to reduce swelling. A short amount of monitoring in the recovery area then follows, after which you will be released to a responsible adult to return home.
Post Procedure Regimen
You will be instructed to keep your head elevated and to place cold compresses on your eyelids for the first several days. Eye drops may be prescribed and may be used for up to one week after surgery. Medications for discomfort are prescribed although most patients have only minimal discomfort. Two weeks of recovery are necessary to resolve any bruising and most of the swelling. However most patients return to work within a week. Make-up can be applied to the lids at one week post - op and contacts can usually be resumed at this time as well.
Eye Surgery Summary
Dr. Harrell is an experienced plastic surgeon with over 24 years of performing aesthetic surgeries. He is an accomplished surgeon with a well developed artistic sense. Let him and his staff evaluate your needs and goals and provide you with a first class experience and result.
Contact our office in Ft. Lauderdale, Florida, through the online form on the next page or call (954) 526-0066 to learn if you are a good candidate for the eyelid surgery procedure. We are ready to help you look your best.