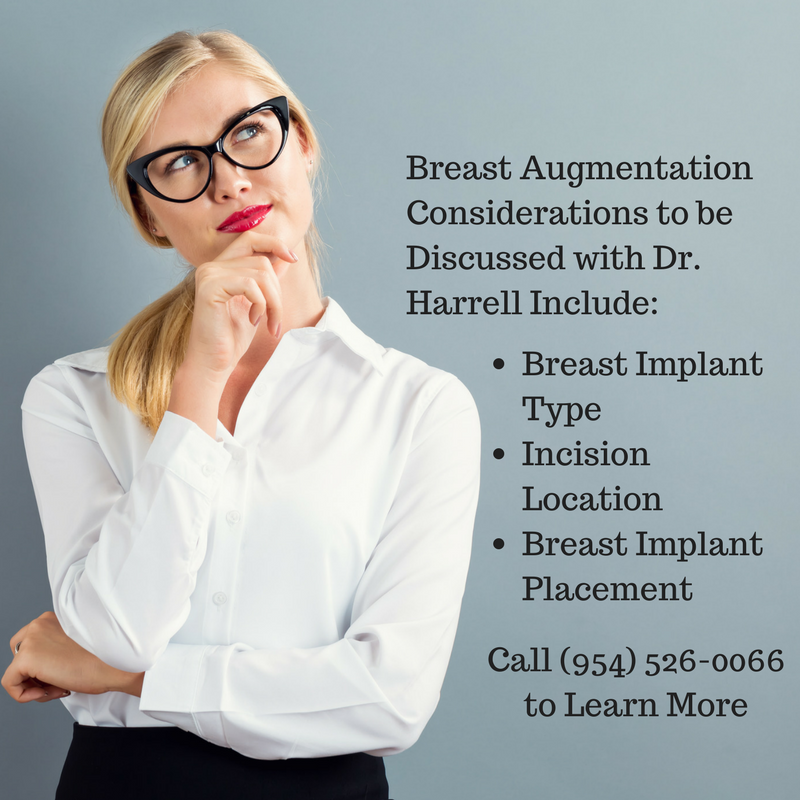 Breast augmentation is an incredibly effective way to produce a full and womanly upper body while also addressing issues such as:
Asymmetrical breasts
Unsatisfactory cleavage
Displeasing breast shape
Uncomplimentary symmetry between breasts and body
If you are at all unhappy with the size, shape, or profile of your breasts, board-certified Miami plastic surgeon Dr. Jon Harrell can help. Call us at 954-526-0066 to schedule a consultation today.
Breast Implant Type
Both saline and silicone breast implants are available for your breast augmentation procedure. Saline implants are filled after they have been placed and may allow for a smaller incision. Silicone implants are prefilled and may require a larger incision, but tend to look and feel more natural in certain placements.
The type of breast implant ideally suited to enhance your chest is dependent on several factors unique to you. During your breast augmentation consultation at our Weston, FL office, Dr. Harrell will discuss the benefits and limitations of both implant types to help you choose the right one for your needs.
Breast Implant Incision
Incisions for the placement of breast implants can be made:
Underneath the breast (inframammary)
Around the nipple (periareolar)
Through the armpit (transaxillary)
Each of these incisions is made in such a way as to limit postoperative scarring while providing ideal access for Dr. Harrell to place the implant. Your clothing choices, lifestyle, and other factors will influence which of these breast augmentation incisions Dr. Harrell recommends.
Breast Implant Placement
Breast implants can be placed above the muscles of the chest, just below breast tissue, in what is known as the "subglandular" position. This placement is less involved and may help reduce recovery time. However, saline implants placed above chest muscle may not look and feel completely natural. If subglandular placement will not work for your stated desires, below the muscle placement will be recommended.
Below the muscle, also known as "submuscular" placement, allows the implant to be covered by both breast tissue and chest muscle, producing a more natural look and feel. While recovery can be slightly longer with this placement option, certain risks, such as visible implant imperfections and capsular contracture, may be reduced with submuscular implants.  
What's Best?
Determining what is best for your breast augmentation procedure requires a skilled and dedicated plastic surgeon. If you live in or around Miami, FL, contact us today to schedule a consultation with our board-certified plastic surgeon. Dr. Harrell serves Miami, Fort Lauderdale, and surrounding areas from our Weston, FL location.