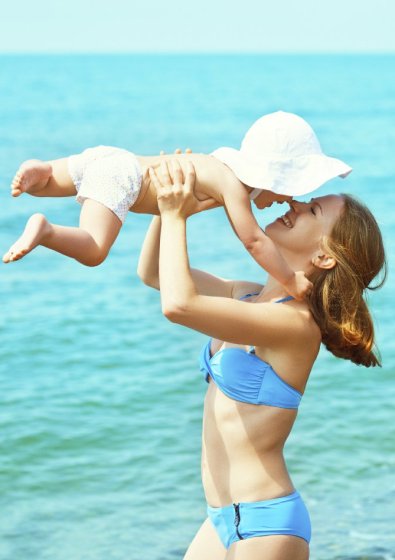 Pregnancy is a beautiful process which brings new life to the world and changes the mother's body. Women are often told that they will be back to normal in six weeks, but new studies show that it may take up to a year. And, although you can expect some changes to be restored naturally, few women are lucky enough to totally bounce back. If you find yourself unhappy with the way your body has responded, then a mommy makeover can help you back your old form.
What Should You Expect After Childbirth?
Immediately following your childbirth, you will lose a great deal of water weight. As your blood circulation is normalized and your uterus shrinks, you will lose weight. After these processes, your weight loss is often halted.
Some things to remember during this time:
Have patience: it took 9 months for your body to change so it won't be restored overnight.
The process isn't over: your body needs to store some fat to help with breastfeeding. Except this to continue for at least 6 months.
After stopping breastfeeding, the shape and size of your breasts will return to almost what they used to be however you should expect less perkiness and sagging.
Report any physical and emotional distress you may feel to your doctor during postnatal checkups.
Healthy diet and exercise are crucial to restoring your body to its old form. Here's some things to consider before starting an exercise regiment:
Try to find an exercise class for new moms to join.
Exercising your pelvic floor and abdomen will help support your back and alleviate back pain.
Remember that pregnancy hormones will affect your joints for six months so stick with low impact exercise regiments during that time.
With correct posture and exercise, your tummy should return most of the way. Continue abdomen exercises for at least 3 months.
Although diet and exercise will get your body moving in the right direction, many women are unable to recover their pre-motherhood form. This is where a mommy makeover can help. Dr. Jon Harrell will customize your mommy makeover to fit your specific needs.
Some of popular procedures during a mommy makeover include:
Breast augmentation and breast lift: to restore volume and position.
Liposuction: to remove troubled areas developed during pregnancy that haven't responded to diet and exercise.
Tummy tuck: pregnancy often leaves sagging skin and stretch marks in the abdomen. A tummy tuck can help.
If you're in the Miami area and interested in a mommy makeover, contact Dr. Harrell at (954) 526-0066 to schedule a consultation.