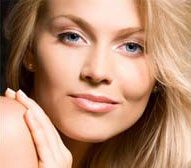 Refine and Rejuvenate
The foundation for an attractive face begins with the underlying bones of the face that make up the forehead, cheeks and chin as well as the nasal bones. It is not surprising then that there are a number of procedures in plastic surgery that are devoted to improving the aesthetics of the face by changing the apparent volume of the facial bones using a number of custom made facial implants. Many individuals have concerns about a chin that is 'weak' or a nasal bridge that is too 'flat' or cheeks that appear flattened rather than full and convex.
Dr. Jon Harrell has an impressive amount of experience with all of the various facial implants. At one time he actually carved his own custom cheek implants before they were commercially manufactured. He has a well developed sense of aesthetics and can help you determine which type of implant can improve the proportions of your face. As a plastic surgeon with special expertise in facial surgery, Dr. Harrell is one of a handful of plastic surgeons able to perform these types of procedures with artistry and the necessary technical skill. Please call (954) 526-0066 to schedule a consultation at our Ft. Lauderdale office.
Chin Augmentation
One of the most commonly performed surgeries is chin augmentation. This operation consists of placing a custom implant of varying thickness on top of the chin just next to the bone where it remains undetectable. The incision can be placed inside the mouth or under the chin. To avoid a visible scar, Dr. Harrell favors the intraoral approach. There are several materials used in chin implants but Dr. Harrell favors the use of a soft solid silicone implant due to its ability to contour nicely over the bone.
Risks and complications are very rare if the procedure is performed properly and the patient takes the appropriate precautions post-operatively. There is a modest amount of discomfort easily controlled with pain medications prescribed and the patient resumes an unrestricted diet soon after the procedure. There is virtually no bruising afterwards and patients look good almost immediately even though they may be a little swollen. Let Dr. Harrell show you how you may benefit from chin augmentation and how it can make a difference in the way you look and feel about your appearance.
Cheek (Malar) Augmentation
Cheek augmentation is another popular procedure that creates a rounder and fuller mid-facial appearance. Many younger patients have rather flattened cheeks that can benefit from this procedure but as we age the tissues over the cheek bones becomes thinner and actually slides down off the bone slightly creating a gaunt and more aged appearance. Therefore the indications for this procedure usually increase as a patient ages. Early attempts to intervene may include temporary or permanent filler substances but eventually an implant usually makes the most sense.
Cheek augmentation carries with it very little serious risk. The operation is performed as an outpatient procedure taking approximately 1-1 1/2 hours to perform. Modest pain is easily controlled with prescribed medications and a regular diet can be resumed reasonably quickly afterwards. The central cheeks will be swollen slightly for about a week and this improves rapidly. Bruising is minimal and full activities with the exception of aerobic exercise can be resumed immediately. The implants may be made out of several different substances but Dr. Harrell prefers the soft solid silicone implants because of the wide number of styles and sizes available and their ability to contour easily to the underlying bones. This operation has a high satisfaction rate and has been popularized by the fact that a number of visible celebrities and performers have had the procedure done to help maintain a more youthful appearance. Dr. Harrell has extensive experience with this procedure and can help you decide if you are a good candidate for cheek augmentation.
Sub-Malar Implants
These implants are really a variant of the cheek implant and are designed to improve the lower portion of the midface alone when the upper cheek bone is satisfactorily projecting. They address the flattening of the mid face and the incision and recovery time are similar to cheek augmentation. Complications are uncommon and return to normal activities in a short time is the general rule. Dr. Harrell has extensively used this procedure to improve facial aesthetics in patients of all ages. Let him show you what this procedure can accomplish.
Mandibular Angle Implants
These implants are used to create more of a prominence and flair of the back part of the lower jawbone. It is a great technique to balance the face in individuals who have a narrow mandible, giving the appearance of their cheeks extending directly down to their necks. It can also balance the face of those patients with a very strong and wide central or mid-face but who have a relatively narrow jaw.
The operation is performed through a small incision in the mouth behind the last molars. A custom silicone implant of the appropriate size is inserted and secured with a suture. This can be a powerful operation to change facial shape significantly when the usual attractive proportions of the patient are unfortunately reversed. It is an outpatient operation taking about 1 1/2 hours and postoperative pain is modest and easily controlled with appropriate medication that will be prescribed. Regular diet is resumed within several days and full activities except for aerobic activities may be resumed immediately. If one looks at any number of leading performers and models it is easy to see the effect a well defined and flared mandible has in imparting beauty and strength to a face. Dr. Harrell help to evaluate your facial anatomy and determine if this procedure would benefit you.
Nasal Implants
Small silicone or Teflon implants are placed on the bridge of the nose to restore the strength of the profile lost by trauma or perhaps inherited. Often combined with other facets of a rhinoplasty, nasal augmentation can be an exceptional way to balance the face and take away the negative stigma that is bothering the patient. The bridge can be augmented in a natural way to avoid overly changing one's ethnicity and yet create a more beautiful nasal appearance. Dr. Harrell's experience and talent in rhinoplasty help him to perform nasal augmentation in a way that will please almost all patients. This is an outpatient procedure with little post operative discomfort and an early return to full activities. Let Dr. Harrell help you determine if this procedure will benefit you.
For more information about facial implants and their applications, please contact The Weston Center for Aesthetic Medicine and Surgery online or call (954) 526-0066 . Dr. Harrell serves patients throughout the Ft. Lauderdale area, including Weston, Plantation, and Davie, as well as Miami and other areas of South Florida.