Rhinoplasty is a cosmetic procedure designed to improve the size and shape of the nose, creating ideal proportions to enhance the entire facial appearance. During the procedure, a septal deviation may be corrected to an extent, as cartilage is manipulated and reshaped to produce a more desirable look, but rhinoplasty is not intended to straighten a deviated septum.
Nasal septum surgery is called septoplasty. During septoplasty, bone and cartilage are moved into a straight position, perfectly bisecting the nose to restore breathing abilities. While there are many small differences between septoplasty and rhinoplasty, in the end, rhinoplasty is a cosmetic procedure that may have some physical benefits while septoplasty is a medical procedure that may have some cosmetic benefits. But what can you do if you don't fall neatly into just one camp? What can you do if you struggle with a deviated septum and pronounced aesthetic imperfections?
Combining Rhinoplasty with Deviated Septum Surgery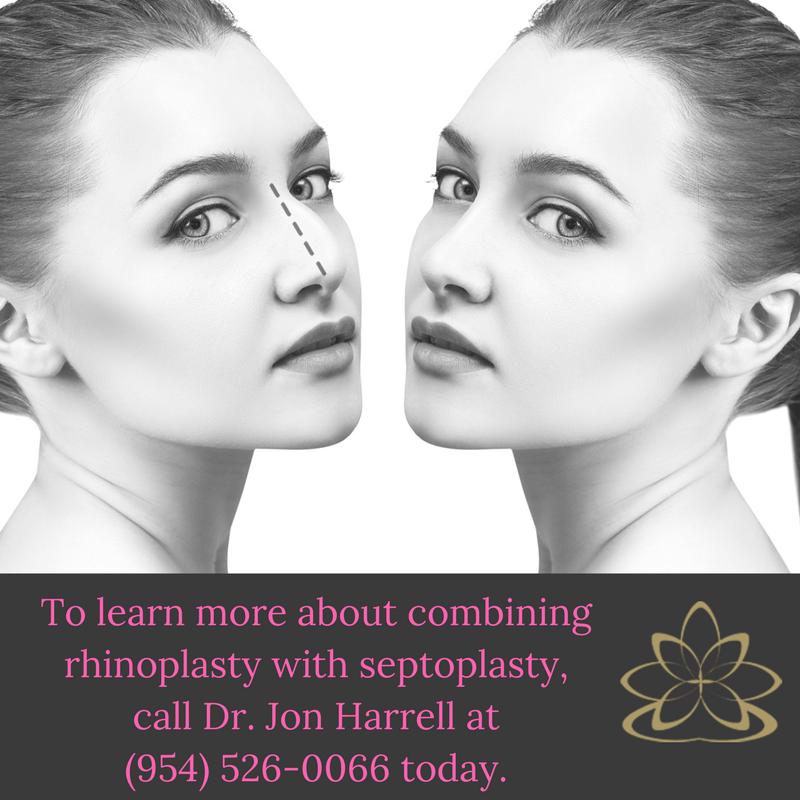 A deviated septum will impact the contours of the nose. In some cases, nasal septum surgery is all that will be needed to address this. In others, further manipulation of cartilage and skin will be needed to achieve the most desirable results.
It is possible to combine deviated septum surgery with rhinoplasty in cases where both would be of benefit to the patient. During your initial consultation at our Weston, Florida office, we can help you determine if a combination of procedures would be beneficial in your case.
The primary reason to consider septoplasty is to improve breathing function. Not everyone with a deviated septum will find nose breathing difficult, but those who do can often reap significant reward from nasal septum surgery.
Why Choose Our Miami Nose Surgeon?
Dr. Jon Harrell is a board-certified plastic surgeon and a Diplomate in the American Board of Otolaryngology-Head and Neck Surgery. With decades of experience and an unwavering commitment to each of our patients, Dr. Harrell takes time to evaluate nasal contours and structure during rhinoplasty consultations, enabling him to make surgical recommendations based on the unique needs of the individual.
If you are considering nose surgery or deviated septum surgery in the Miami area, Dr. Harrell welcomes an opportunity to meet with you, discuss your needs, and help you determine the best ways to reach your goal.
Paying for Rhinoplasty
Septoplasty may, under some circumstances, be covered by insurance. Rhinoplasty will not. If you are considering both, you will also need to consider your financing options.
We accept all major credit cards for rhinoplasty. We also work with CareCredit®, a trusted healthcare lender that offers many promotional options including 0% APR and fixed monthly payments to help make surgery accessible to people who do not wish to pay out of pocket. If financing your procedure is something you would like more information about, we can discuss all of your options during your initial visit.
To schedule a consultation with our board-certified plastic surgeon, please call the Weston Center for Aesthetic Medicine and Surgery at 954-526-0066 today. Located in Weston, our rhinoplasty surgeon serves Ft. Lauderdale, Miami, and all surrounding areas of Florida.