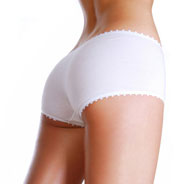 Reshape
Over the last decade, buttock augmentation has become an increasingly mainstream plastic surgery procedure. Improvements in surgical instruments, as well as technical advances in the techniques used to safely harvest and transfer fat, have helped make this procedure more accessible and effective than ever.
Just as many patients have an excessive amount of fat in certain areas of the body, others have a relative absence of fat, particularly in the buttocks and the outer thigh area. A buttock augmentation - also known as a "Brazilian Butt Lift" - is the perfect solution for patients who want to enjoy a more feminine, sexy, or proportionate figure*. Our butt lift has the added benefit of re-shaping your body in the areas where we remove fat to be transferred to the buttocks. To learn more, call our Ft. Lauderdale office at (954) 526-0066 today.
Your Butt Lift Consultation
If you are interested in a buttock augmentation, we encourage you to schedule an initial consultation with Dr. Harrell. You will be given an opportunity to share your concerns, discuss your cosmetic goals, and ask any questions you have about this procedure.
During your consultation, Dr. Harrell will perform an examination to assess where the best areas for liposuction are located. Dr Harrell prefers to harvest fat from areas with stubborn deposits of fat that are difficult to lose. However, any area with excess fat can potentially be used as a donor site.
Among other factors, Dr. Harrell will evaluate:
The amount of fat present
The elasticity of your skin
Your bone and muscle structure
Removing fat from areas around the buttock may make your buttocks appear larger without even augmenting them*. Also, from a profile view, reducing any fullness in the front of the abdomen will make your buttocks look larger. These and any other findings will be pointed out to you during your consultation, so you and Dr. Harrell can determine the best approach for your butt lift.
The Butt Lift Procedure
Brazilian butt lift surgery is usually performed on an outpatient basis. The length of your buttock augmentation procedure will depend on a few different factors, including:
How much fat is being harvested
How many areas are being liposuctioned
How much fat is being transferred to the buttocks
Operative time may vary from 1 ½ to 4 hours based on these factors. The liposuction access sites are usually 3 mm long and placed in easily concealed locations. The access sites for the fat transfer are only a millimeter in length and are virtually invisible after surgery*.
Fat transfer is an artistic process as well as a technical one. Dr. Harrell will do his best to create a nicely shaped contour based upon his discussions with you and your unique goals*. After completing the process, you will wear a compression garment to help shape and gently compress all treated areas.
The Buttock Augmentation / Brazilian Butt Lift Recovery Process
All patients are encouraged to be active as soon as possible to facilitate the healing process. Non-aerobic activities are encouraged. Exercise can usually be resumed about 2 weeks following surgery, depending on how quickly your body heals. Swelling typically resolves quickly at this time, but you may have to wait several months before your final results are apparent.
In the first week after your surgery, we recommend that you avoid pressure on the buttocks as much as possible. Doing so may help improve the amount of fat cells that survive the transfer.
Why Choose Dr. Jon Harrell and the Weston Center for Aesthetic Medicine and Surgery?
Dr. Jon Harrell is a board-certified plastic surgeon with over 24 years of experience in cosmetic surgery. He has performed thousands of liposuction procedures and has been performing buttock augmentation with fat transfer for over 10 years.
Dr. Harrell is a highly skilled and artistically talented surgeon. He will take all the time you need to understand your goals and listen to your concerns. You are an important part of the team and are treated as such. Whether you live close by, are out-of-state, or even reside in another country, Dr. Harrell looks forward to hearing from you and helping you see the difference plastic surgery can make in your life.
If you are interested in a buttock augmentation, please contact us today through the appointment button at the bottom of this page or call (954) 526-0066 to schedule your personal consultation with Dr. Jon Harrell at the Weston Center for Aesthetic Medicine and Surgery. We serve the Weston, Fort Lauderdale, Miami, Plantation, and Davie areas of Florida.