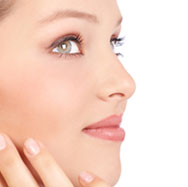 Refine and Rejuvenate
Secondary rhinoplasty refers to any nose surgery performed after the initial primary rhinoplasty. It is also called revision rhinoplasty. The term is very general and covers a wide range of possible operations, including minor touch-ups all the way to major reconstructive surgeries. Some of these procedures are relatively simple in scope, while others may be time consuming and exceptionally difficult undertakings.
For a discussion about revision rhinoplasty and Dr. Jon Harrell's extensive experience with multiple forms of nose surgery, please call (954) 400-5559 to reach our office in the Miami area.
Secondary Rhinoplasty Considerations
There are several important factors which must be taken into account when undergoing a secondary rhinoplasty procedure:
Airway Considerations – First and foremost, the nose needs to function well. We were meant to breathe from our noses for a variety of reasons. Many patients for revision rhinoplasty have uncorrected breathing problems from their first surgery. Others were breathing well before the surgery, but now find that they are having problems they never before experienced. A functional nasal analysis is a critical part of a nasal evaluation before any rhinoplasty, but particularly so before a secondary rhinoplasty. There are many reasons that the airway may be compromised, and most of these problems can be addressed if diagnosed properly.
Aesthetic Considerations – These issues fall into several categories. A small number of patients actually have a reasonable result but may have had unrealistic expectations about what their rhinoplasty procedure was going to be able to accomplish. In other circumstances, the original surgeon may not have accurately diagnosed the situation or may have not have performed the surgery as well as hoped for. Sometimes, it is a combination of everything noted above.
Can My Nose Ever Look Normal Again?
This depends upon a number of factors, including:
How many surgeries have been performed
How much scarring is present
How much normal/original cartilage is present
How much internal scarring is present
How much additional cartilage is needed to support the nose
The experience level of your rhinoplasty surgeon
Usually, a significant improvement can be made during a secondary rhinoplasty. Some noses are easier to improve than others, but usually an experienced surgeon can achieve your desired results with this procedure.
The Secondary Rhinoplasty Process
Our Miami plastic surgeon has extensive experience performing secondary rhinoplasty procedures, and he has been helping patients correct issues stemming from poorly performed nose surgeries for more than 25 years. You can expect the following process when Dr. Harrell performs your revision rhinoplasty surgery:
The Rhinoplasty Consultation – This is probably the most important step in the entire process. You will have an opportunity to express your concerns to Dr. Harrell. He will then perform a thorough examination of the nose and review any records that are available regarding your prior nose surgeries. After your examination, Dr. Harrell will have a detailed discussion with you outlining treatment options and laying the foundation for realistic expectations.
The Pre-Operative Process – A routine medical history and examination are performed, and laboratory testing is tailored to your health history and age. A detailed packet including pre- and post-operative care and educational information is provided to you.
The Procedure – Dr. Harrell typically uses either general anesthesia or local anesthesia with sedation for secondary rhinoplasty procedures. The operation time can vary significantly depending upon the complexity of the procedure. Recovery time is usually 1-2 hours. Typically, patients return home or to their hotel with an adult caregiver. When the operation involves the harvesting of rib cartilage, an overnight stay in the hospital is advisable.
The Post-Operative Process – For the most part, pain or discomfort is minimal after rhinoplasty. Expect the nose to be congested. The ability to breathe through the nose usually returns during the first week following surgery and continues to improve for several months. There may be some bleeding after the procedure for about a day, but this is usually minimal. Prophylactic antibiotics are prescribed, and you will be asked to refrain from strenuous exercise or aerobic activities for 2-3 weeks and occasionally even longer.
The Healing Process – You will need to give your nose about 6 months to heal before the final result becomes apparent. Visible, though subtle changes can occur for a year or longer after surgery. Nevertheless, most patients will see a noticeable improvement soon after the surgery.
Please contact The Weston Center for Aesthetic Medicine and Surgery by calling (954) 400-5559 or completing our online appointment form today to schedule your initial consultation. Dr. Jon Harrell serves patients in Weston, Fort Lauderdale, Miami, Plantation, and Davie, Florida.