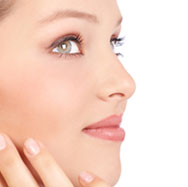 Refine and Rejuvenate
nose job consultation will begin with Dr. Harrell learning about your concerns and goals. A thorough exam will then be done, following which Dr. Harrell will outline a proposed plan of correction.
It is not uncommon for patients to bring in photographs of models or celebrities with the type of nose they would like to have. Although it is not possible to guarantee this type of result for most patients it does give Dr. Harrell an idea of the patient's aesthetic preferences.
The exam will also include assessment of the patient's internal airway. Dr. Harrell will demonstrate the proposed plan with drawings and diagrams to help you understand the anatomy and how it will be re-shaped.
Dr. Harrell and his staff look forward to assisting you in your desire to look your best. Please contact our office through the appointment form linked below or call (954) 400-5559 to schedule your complimentary rhinoplasty consultation.