Your facial features are an important part of what makes you unique, and your ethnicity plays a major role in how these features look. When undergoing rhinoplasty to improve the appearance of your nose, it is important to take your ethnic features into account in order to achieve a natural looking result. Dr. Harrell has extensive experience performing ethnic rhinoplasty procedures, and he is very sensitive to his patients' desire to retain their ethnic characteristics.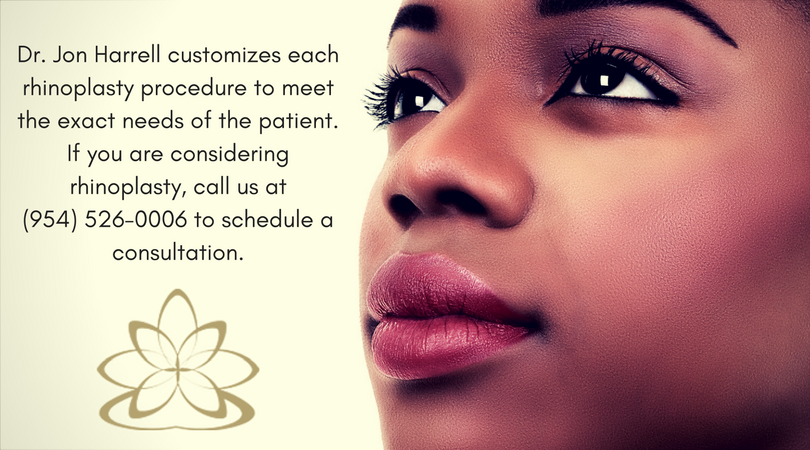 Ethnic rhinoplasty procedures present a unique set of challenges that require a different approach in order to achieve beautiful, natural looking results. As a result, no two procedures performed by Dr. Harrell are exactly alike. He will customize your ethnic rhinoplasty to address your aesthetic goals in a manner that respects and preserves your ethnic identity. Please call (954) 400-5559 to schedule a free consultation at our office near Miami.
Ethnic Rhinoplasty Considerations
Ethnic rhinoplasty utilizes many of the same techniques as other rhinoplasty procedures to accomplish your aesthetic goals. Cartilage and bone is removed or reshaped in order to achieve a more balanced appearance. In some cases, cartilage grafts may be used for more effective results. Depending on your goals, these alterations can be subtle or more dramatic.
However, Dr. Harrell will also take into account certain characteristics that might be impacted by your ethnicity such as skin thickness, a broader nasal structure, or the width of your nostrils when performing your procedure. To address these factors, Dr. Harrell often employs techniques such as building up the nasal bridge, narrowing the base of the nostrils, or lengthening and refining the tip of the nose. These techniques are very effective at enhancing the appearance of your nose while preserving your ethnic heritage.
Why Choose Dr. Harrell?
When choosing a rhinoplasty surgeon to perform your ethnic rhinoplasty, you will want to work with a surgeon who makes this highly specialized procedure a primary focus of their practice. In order to achieve the results you desire, your plastic surgeon must also be sensitive to the issues involved in preserving your nose's ethnic characteristics.
Miami plastic surgeon Dr. Jon Harrell has a unique set of qualifications which make him an excellent choice to perform your ethnic rhinoplasty. He is board certified in both plastic surgery and ENT (ear-nose-throat surgery). In the past 25 years, he has performed more than a thousand rhinoplasty procedures, and this area is a primary focus of his practice. Dr. Harrell regularly performs ethnic rhinoplasty procedures and has achieved exceptional results with patients of all ethnic backgrounds.
Please contact The Weston Center for Aesthetic Medicine and Surgery through the online appointment form we've linked to at the bottom of this page or call (954) 400-5559 today to schedule your ethnic rhinoplasty consultation. Dr. Jon Harrell serves patients in Miami, Weston, Fort Lauderdale, Plantation, and Davie, Florida.