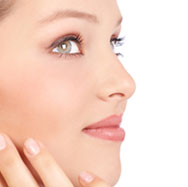 Refine and Rejuvenate
There are many plastic surgeons in the Fort Lauderdale area competing for your business. How do you know which surgeon is the right fit to perform your rhinoplasty?
There are several important criteria which you must evaluate when making your decision. Ultimately, it is important to work with a surgeon who you trust and who has a good understanding of what you would like to accomplish with your rhinoplasty procedure. To learn more about Dr. Jon Harrell and his qualifications as a nose surgeon, please call (954) 400-5559 to reach our Ft. Lauderdale office.
Evaluate a Rhinoplasty Surgeon's Credentials
A plastic surgeon's credentials will tell you a great deal about his training and experience. It is important to carefully review your potential surgeon's credentials since his skill level and experience will have a tremendous impact on your results.
Look for a Fort Lauderdale rhinoplasty surgeon with the following credentials:
Training in plastic surgery or otolaryngology (ear-nose-throat surgery)
Board certification in plastic surgery (a dual board certification in otolaryngology would be beneficial)
Memberships in various local and national professional organizations
Academic appointments – surgeons that also teach are generally familiar with the most advanced techniques in the field
Articles written, talks given, and media appearances related to rhinoplasty – this can indicate a deeper level of commitment to a particular procedure
It is also a good idea to ask the surgeon for the contact information of several former patients who can serve as a reference. Feedback from former patients can be invaluable when evaluating a potential rhinoplasty surgeon.
Your Initial Consultation
Your initial consultation is an excellent opportunity to get a better feel for a surgeon and the type of care you can expect to receive. Pay attention to the following throughout your consultation:
Does the surgeon listen to your concerns and appear interested in helping you address them?
Does the surgeon perform a thorough examination of both the inside and outside of the nose?
Does the surgeon present multiple options to address your aesthetic goals?
Does the surgeon show you several before and after photos of prior rhinoplasty patients to give you a better understanding of the results that can be accomplished?
It is important that you feel comfortable with the surgeon you choose to perform your rhinoplasty. A good doctor-patient relationship is crucial to having a good experience. If you do not feel completely confident that this is the right surgeon following your consultation, you should continue your search.
Why Choose Dr. Harrell
Fort Lauderdale plastic surgeon Dr. Jon Harrell has been in active practice for over 25 years. During that time he has performed rhinoplasty on thousands of patients from all ethnic backgrounds, including Asian, African-American, and Caucasian. Dr. Harrell has completed full residency training in both otolaryngology (ear, nose and throat surgery) as well as plastic surgery.
Dr. Harrell feels comfortable working on the internal problems that many rhinoplasty patients have such as breathing difficulties due to nasal septum problems, turbinate problems, and narrowing of the airway due to scarring or trauma. He has a large group of patient photos that can attest to the quality of his work, some of which are found on this website. In short, Dr. Harrell has the training and experience expected of someone with a special interest in rhinoplasty.
In addition to his experience, Dr. Harrell is a "people person" who enjoys listening to his patients and taking the time to establish a strong relationship with them. He tries to understand both your emotional and physical concerns. You will not be rushed, talked down to, or be made to feel you are somehow imposing upon the staff or doctor. We will be honest about what we diagnose, what we can do to correct the problem, and what reasonable expectations are.
Dr. Harrell and his staff look forward to assisting you in your desire to look your best. Please contact The Weston Center for Aesthetic Medicine and Surgery online or by phone at (954) 400-5559 today to schedule a rhinoplasty consultation, and to learn if you are a good candidate for nose surgery.