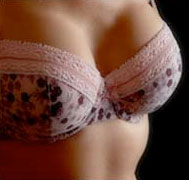 restore
There are two shapes of breast implants offered by Fort Lauderdale plastic surgeon Dr. Jon Harrell: round and tear-drop. Because the size and shape of your body is unique, no single option is best for every woman.
When combined with other breast augmentation options such as implant placement, size, and profile, the shape of your implant can be used to provide you with the look that most complements your frame, personality, and ultimate aesthetic desires. To discuss this aspect of your breast surgery, please call (954) 526-0066 today.
Round Implants
Round implants look like a compressed sphere. There are three primary types of round implants:
Low profile
Moderate profile
High profile
These options allow Dr. Harrell to customize your level of lift and cleavage.
Tear-Drop Implants
Formerly known as "anatomical implants," tear-drop implants are fuller at the bottom and gradually taper off at the top. Mimicking the appearance of actual breasts, some women find tear-drop implants to look more natural. Although tear-drop implants come in only one projection, their shape often allows for a more enhanced anterior (high projection) profile.
Implant Rotation
Round implants come with both smooth and textured outer shells, but rotation is generally not an issue. Because round implants are spherical, they can freely rotate without changing the appearance of your breasts.
Tear-drop implants are generally textured to help prevent rotation. Textured implants have a rough outer shell which creates cohesion between the implant and surrounding tissue. This allows your implant to remain in place, greatly reducing your risk for abnormalities caused by rotation.
You are unique and the type of implant best for you will need to be based on anatomical factors along with your personal desires. During your breast augmentation consultation, Dr. Harrell will discuss your options and help you determine what will best suit your frame.
See our page Breast Implant Rupture for more information about breast implants.
For more information on your breast implant options in the Weston, Fort Lauderdale, Miami, Plantation or Davie areas of Florida, please complete the online contact form for The Weston Center for Aesthetic Medicine and Surgery or call (954) 526-0066 to schedule an initial consultation with Dr. Harrell today.