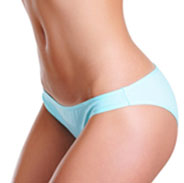 Reshape
One of the very common concerns of many patients we see is the change in abdominal contour seen after pregnancy or significant weight loss. Loose skin, stretch marks, a rounded or distended abdominal contour and excess deposits of fat are frequent concerns of many patients. Typically, exercise and dieting has failed to correct the problem and patients present themselves to our office frustrated and concerned that they have lost they tone and shape they used to have or had hoped to have after dieting or pregnancy. Lost skin elasticity, loose muscles and abnormal deposits of fat all contribute to this situation.
The good news is that there are effective treatments available to help reverse and correct these concerns. First and foremost, among the surgical procedures available to patients is the abdominoplasty (tummy tuck). Let's look at this operation and how it may help you obtain the contour you're looking for. If you have questions about tummy tuck surgery in the Ft. Lauderdale area, please don't hesitate to call (954) 400-5559 to schedule a consultation with Board-certified plastic surgeon Dr. Jon Harrell today.
The Problems
Loss of skin elasticity
Relaxation of abdominal muscles
Excessive fat accumulation
The Solutions
First, make sure you've tried diet and exercise to improve your abdominal appearance. Tightening of the muscles helps to flatten the abdomen and dieting frequently will reduce some of the rounded, thickened appearing contour that disturbs many patients.
Assuming that you've tried that avenue unsuccessfully, the next level would be non-invasive laser treatment to tighten the skin. The treatments are successful for minimal to moderate skin laxity, but typically do not improve muscle tone or correct folds of excess skin.
Following this, the most effective procedures are abdominoplasty and liposuction, which are frequently performed together. Liposuction can effectively thin the subcutaneous tissue which can shape the waist and hips and help to flatten the front of the abdomen.
The abdominoplasty is great for removing a role of skin in the lower abdomen and in redistributing skin that is lax and hanging over the umbilicus (belly button). Additionally, it allows the surgeon to effectively tighten the 'wrapper' that surrounds the abdominal muscles which improves the tone of the abdomen and significantly flattens the abdomen. It's much like an 'internal' girdle. Small hernias that occasionally occur as a result of large weight gains or pregnancy can also be addressed and repaired.
Why The Weston Center and Dr. Harrell for Your Abdominoplasty?
At The Weston Center for Aesthetic Medicine and Surgery, we firmly support the patient by first understanding their goals and then making a comprehensive analysis of their particular anatomy and then formulating a plan that will best meet their goals. In addition all alternative treatment plans will be discussed so as to give the patient as many options to choose from as we can. We understand that a patient must be educated and be a partner in the decision making process.
Dr. Harrell, the medical director of The Weston Center, insists upon first class service and all patients are treated with respect and given the necessary time to understand the process and feel comfortable with their decisions. All personnel are fully committed to making your experience a positive and enjoyable one. Additionally, Dr. Harrell has over 24 years experience in aesthetic plastic surgery and has performed countless abdominoplasty procedures, and his experience translates into predictably better results for his patients.
For additional information, please see Details About Your Abdominoplasty Surgery.
Contact us online or call (954) 400-5559 today to schedule a consultation, meet with Dr. Harrell and see first hand why we say 'See how Plastic Surgery can change your life'.