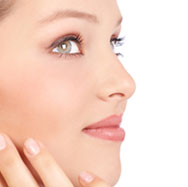 Refine and Rejuvenate
If you are considering primary rhinoplasty - otherwise known as a first-time nose job - you have probably done quite a bit of thinking about the various pros and cons of this procedure. Whether you are looking to enhance a specific feature or reduce one, a primary rhinoplasty will sculpt your nose and reshape it by either adding or removing cartilage and bone.
Our Miami rhinoplasty team will work with you to listen and find the ideal rhinoplasty options to achieve your aesthetic goals. Call (954) 400-5559 today for your preliminary consultation.
What Will My Primary Rhinoplasty Correct?
Patients considering having this type of nasal surgery typically are looking to address one of the following aesthetic issues:
Snub-nose or blunted tip – Rhinoplasty surgeons often refer to this as a nose tip with inadequate projection and definition and can adjust your nose tip.
Nostrils that are wide or excessively wide – With a skin excision, nostrils may either be made smaller, narrowed, or both.
Long nose – Our Miami rhinoplasty surgeon takes great care to precisely sculpt your shorter nose without over-shortening.
Bumpy nose – Nose bumps are simply a prominent bit of bone or cartilage located on its bridge. To correct this, there are specialized instruments available which will create a more pleasing contour and shape.
Nose tip that is wide or bulky – For many Miami patients, the correction of this may involve either trimming some of the external cartilage or thinning of a fatty layer underneath the nasal skin.
How Can Dr. Harrell Help?
Many of our Miami patients find their self esteem is enhanced and their lifestyle improved by the correction of any of these issues. Every patient is unique and has unique aesthetic goals.
Our caring staff can support you with any type of physical enhancement you are looking to receive. While most people can expect a marked improvement in appearance following a primary rhinoplasty, there are times when patients are not satisfied with rhinoplasty results achieved in a prior procedure. In this case, our Miami rhinoplasty surgeon, Dr. Jon Harrell, can provide a secondary rhinoplasty procedure.
Please contact the Weston Center for Aesthetic Medicine and Surgery through the link to our appointment form at the bottom of this page or call (954) 400-5559 today for an initial consultation. Dr. Jon Harrell provides services to patients in Miami, FL and the Fort Lauderdale, Plantation, Weston, and Davie, FL area.