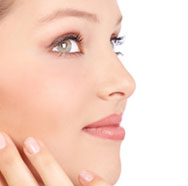 Many of our rhinoplasty and secondary rhinoplasty patients live all over the world and have been willing to travel a great deal to work with Dr. Harrell due to his reputation for delivering exceptional results. Because of this, we offer virtual consultations to our out of town patients.
The Virtual Consultation Process
After making initial contact with our office, we will provide you with all the information needed to complete a telephone consultation. Here are the basic steps needed:
Provide Medical History and Demographic Form: These can be downloaded from our website, or we can fax them to you. Dr. Harrell will review them and address any issues should they arise.
Provide a Set of Photographs: Front, right side, right quarter view, left side, and left quarter view photographs of the whole face are necessary for Dr. Harrell to adequately assess the external nasal anatomy and to follow along as you discuss your concerns.
After Fort Lauderdale plastic surgeon Dr. Jon Harrell has reviewed the information you have provided, a scheduled consultation will be arranged. During this time, you will be able to express your concerns regarding the appearance and function of your nose and to ask all of the questions you may have about the procedure and what is involved. Dr. Harrell will explain what procedures he thinks can address your concerns and then describe the rhinoplasty procedure and process to your satisfaction.
Our office has two patient consultants who will work with you to make the arrangements for surgery. Some patients have very few needs while others may need help with lodging, arranging for help, and even car rentals. We are ready to assist in whatever way we can to make the whole process a smooth and pleasant one.
The Pre-Operative Period
Typically, labs and prescriptions can be taken care of where you live, although sometimes those aspects of the pre-op are taken care of here. If needed, medical clearances are performed close to home.
All informed consents and permits will be sent to you for review and can be signed after arriving locally. A formal consultation with Dr. Harrell will take place prior to the procedure, and a tour of the surgical facility can be arranged if desired.
The Post-Operative Period
Usually, patients do very well after rhinoplasty. The most typical issue is reduced ability to breathe through the nose while the nose is relatively swollen. This usually subsides quickly, and most patients are breathing well within the first week with continued improvement for a number of weeks afterwards.
A small amount of bleeding is natural for the first day or so after surgery. A small drip pad is usually taped in place to catch whatever drainage is present. A small plastic splint if placed over the nose if there has been any work done to the bones. The splint is usually on the nose for about a week.
How Long Do I Need to Stay?
You are usually able to travel comfortably after 3 days. It is preferable for you to stay as long as possible after surgery – up to a week would be optimal. This allows Dr. Harrell time to remove any tape and splints and to reassure you that healing is progressing well. Some patients leave sooner and then return. Others may co-ordinate care back at home with another physician, allowing them to leave earlier. We try to accommodate each patient's wishes, providing it is medically sound and safe to do so.
Please contact the Weston Center for Aesthetic Medicine and Surgery through our online form or by calling (954) 400-5559 today to schedule your virtual consultation. Dr. Harrell serves his out of town patients from his office in the Fort Lauderdale, Florida area.