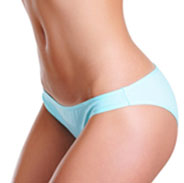 Reshape
What is the Tummy Tuck Surgery Like?
SURGERY LOCATION - If both you and Dr. Harrell agree that an abdominoplasty is your best option, you will have your procedure performed either in an accredited outpatient facility or hospital based upon your overall health and other issues discussed during the consultation.
ANESTHESIA - General anesthesia is preferred to maximally ensure your comfort. However, intravenous sedation is also used and occasionally even local anesthesia may be an option. The first concern is for your safety and comfort throughout the procedure.
THE PROCEDURE - You will be marked prior to surgery to outline the proposed incision location and areas to be liposuctioned. Any last minute questions will be answered and both you and Dr. Harrell will be in agreement as to how the procedure will be performed and where all incisions will be. After an appropriate anesthetic is administered the skin will be injected with local anesthesia to reduce the need of general anesthesia and to reduce intraoperative bleeding. It's important to understand that there is typically very little bleeding during abdominoplasty.
The incision is then made and located in a position below a bikini line so as to be virtually invisible in any public situation. Next, the skin and fatty tissue is carefully separated from the muscle covering and the umbilicus is preserved by protecting its attachment to the muscles. When the skin has been sufficiently elevated the excess skin is carefully trimmed off to create a smooth and moderately tight closure. Before closing the skin the umbilicus is secured in such a way as to create an 'inny' with a concealed incision/scar.
The deep layer of the abdomen is then tightened to create further flattening of the abdomen by placing a number of sutures in the wrapper that covers the muscles. This effectively creates an internal 'girdle'*. Usually a drain will be placed under the skin to remove any excess fluid in the early days after the procedure. This insures a smoother and flatter result*. Dr. Harrell prefers to use absorbable sutures so that there are virtually no sutures to be removed after the surgery. If liposuction is to be performed then the areas to be shaped are suctioned and at the completion of the surgery, a padded binder is placed around the abdomen to help support the repair of the muscles and aid in comfort afterwards.
Summary
Abdominoplasty with or without liposuction is a time tested and valuable procedure to help give individuals back their abdominal contour especially when diet and exercise have failed to make a sufficient difference. The operation itself is safe and typically yields predictable results in healthy and well motivated patients. Results are long lasting and patient satisfaction is usually high.
Contact the Weston Center for Aesthetic Medicine and Surgery online or call (954) 400-5559 today for an initial consultation, meet with Dr. Harrell and see first hand why we say 'See how Plastic Surgery can change your life'.